Jeff Bezos: From humble beginnings to the Richest man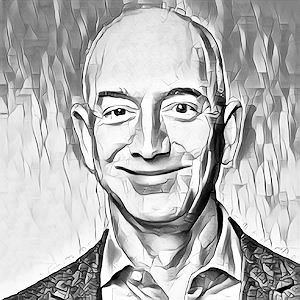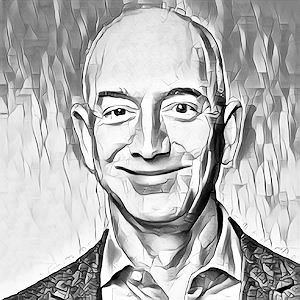 Introduction
Jeff Bezos is an American CEO of his own company Amazon which he founded himself. He is currently the richest man in the world and was named by Forbes to be 'the richest man in modern history'. By mid-2018, Jeff Bezos's net worth was an estimated $150 billion. Jeff is 54 years old and has four children with his now ex-wife MacKenzie Scott. Their divorce in 2019 made MacKenzie Scott the third richest woman in the world. Jeff Bezos company is one of only two companies in the United States of America that employs over half a million people, with plans to continue growing.
Before
Jeff Bezos was born in Albuquerque, New Mexico on the 12th of January, 1964. Jeff's mother was seventeen when she gave birth and his father was the owner of a bike shop. The pair divorced a few years later and his mother, Jacklyn married Miguel Bezos in 1968. Miguel was a Cuban migrant and it wasn't long after the wedding that Miguel adopted young Jeff, changing his name to Jeff Bezos. The family moved to Houston, Texas where he would attend elementary school before moving to Florida where he would complete high school.
He graduated from high school as valedictorian and mention space travel in his graduation speech. It was obvious that Jeff Bezos was interested in science from a young age. His father Miguel was an engineer and his maternal grandfather with whom he spent many summers with, was the director of the U.S Atomic Energy Commission. He mentioned colonizing space in his graduation speech as well as plans to get all the humans off the earth and turn it into a national park.
Jeff Bezos attending college at Princeton University and graduated with a 4.2 GPA and a Bachelor of Science in Engineering with Electrical Engineering and Computer Science. After graduating in 1986 he was offered many jobs with top companies but ended up working for Fitel which was a startup company. The next nine years would see Jeff Bezos bounce around between companies, often getting promoted quite quickly especially for his age. He would work for the Bankers Trust and then for a hedge fund company which he would become the vice-president for before he had even turned 30.
After
Towards the start of 1994, Jeff Bezos decided that he would do something different. He wanted to open an online bookstore. Leaving his job at the hedge fund company, he founded what is known all over the world as Amazon. He chose this name for two reasons, a respect for the Amazon rainforest in South America and because it starts with A making it the first letter of the alphabet. Starting with an initial investment from his parents of $300,000, Jeff Bezos told his investors that after doing some careful calculations that the chance of going bankrupt was 70%. He did have a lot of confidence that because of the growth of the internet, Amazon would eventually take over the bricks and mortar stores which were his competition.
Flash forward four years later and Jeff Bezos has expanded Amazon beyond books to include music, video, and other different household consumer items. In 2009 Jeff Bezos was named 'TIME' magazines "Person of the Year". He then went on to create Amazon Web Services however by 2002 the company was nearly bankrupt. After the closure of distribution centers and the layoff of 14%, Amazon managed a comeback year in 2003 when they turned out a profit of $400 million. Jeff Bezos and Amazon went from strength to strength after this setback and in 2007 Amazon Kindle was born. By 2013 Jeff Bezos had secured a contract with the CIA which brought in $600 million and in the same year, Amazon was named the biggest internet retailer in the world.
Despite selling hundreds of millions of stocks in Amazon to fund other projects such as space travel project "Blue Origin", Jeff Bezos continued to expand Amazon and in 2007 he hired 130,000 employees for his distribution centers. It would be the next year that Jeff Bezos would overtake Microsoft creator Bill Gates and be officially named by Forbes magazine 'Wealthiest Man in the World" with a net worth of $112 Billion.
What lessons can we learn from Jeff Bezos?
1. Taking a Risk sometimes pays off!
Initially, when Jeff Bezos started up Amazon, he informed the investors that there was a 70% chance that the business would go bankrupt. He still decided to take the risk and was rewarded with one of the biggest businesses in history. Jeff Bezos took a chance and it paid off big time.
2. There will always be highs and lows throughout your career
Jeff Bezos built his company from the ground up and although he is hugely successful and the richest man in the world, there were definitely times when his career went through a rough spot. He has bounced back from near bankruptcy more than one time and with hard work and consistency, he has managed to get back on top. Life has ups and downs but it is important to never give up.
3. Don't take note of the negative opinions of yourself!
Jeff Bezos is no stranger to criticism, often being labeled by the press as a corporate supervillain. He has even taken fire from politicians in the United States and faced pressure in the senate. Jeff Bezos didn't listen to the opinions of others and kept working hard to build his empire.
Conclusion
Jeff Bezos is unlike anyone in our time. He came from a small town and had a relatively normal life but he also had a big dream. Working his way to the top of many fields gave him the chance to see how a leader works but he remained true to his own style and created an online empire unlike anything else on the planet. If you work hard enough and stayed focused on your dreams, the sky really is the limit!
Do not miss the chance to check out other inspirational and true stories available at SuninMe.org