Mother Teresa – A Woman of the People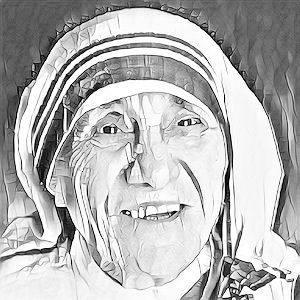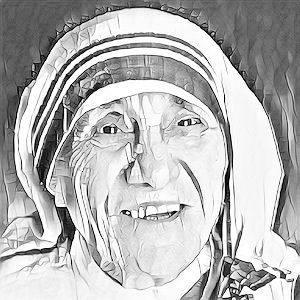 Introduction
Mother Teresa is known in the modern day as one of the kindest and most caring women of the 20th century. She saved many lives at her own financial and lively sacrifice, no doubt. Her honors throughout her lifetime included the Nobel Peace Prize, as well as the Ramon Magsaysay Peace Prize amongst many others. As well as her awards, she was recognized as a saint by the church after her death and was given a feast day named after her which takes place annually on September 5th.
Before
Teresa left home at 18 to join a sisterhood in Ireland, however prior to this trip would be the final time she would ever have the chance to see her mother or her sister again in her lifetime, as they moved during her time away. Teresa had had a continuous struggling relationship with her family members during her time at home.
Upon moving to Calcutta, Teresa had no money, as well as no family to assist her through this trouble. She would have to resort to begging on the streets for money, and as for her medical assistance, it was struggling at her lack of medical education. She had begun her battle with her belief in God at this stage in her life too, stating that she relief on faith alone to get through this point in her early life.
Teresa was eventually appointed the headmistress of the Loreto Convent School, however she struggled immensely and became increasingly guilt-ridden and disturbed at the poverty she would witness in the streets on a daily basis. It was not long after that she had heard from God to devote the rest of her life to those who were at the lowest end of the societal spectrum financially and physically.
After
She would go on to spend the remaining 50 years of her life dedicating her time to the poor and physically lost/ill, taking on the burden of their poverty upon herself all the while. She also had begun The Missionaries of Charity in the 50s. This charity would go on to open hospitals, orphanages and leper houses throughout India., assisting many with struggles in their lives. As of 2012, her Missionaries Charity is said to have over 4,000 sisters tending to those in need, being placed in over 100 countries around the world. As well as this, Mother Teresa was a figurehead in beliefs for women's rights and contraceptive rights for women to have control over their bodies in a very conservative time and place in the history of the world.
She would go on to receive a number of individual awards for her work in life. She was awarded the Padma Shri in 1962, the Jawaharlal Nehru Award in 1969 among several others. She would be awarded the highest honor awarded in her homeland, that being the Bharat Ratna in 1980. Amongst her native awards, she received a number of international peace prizes too between the 60s and the 80s, which included the Nobel Peace Prize in 1979. As well as this, as previously stated, she would become recognized as a saint by the Catholic church post-her death in the year 2016, cementing her place as a figure of savior of those in need and kindness in the eyes of the Catholic church.
Key Lessons
1. Do not sit Still
Mother Teresa was a woman who had found a point in life where she herself was not doing amazingly well, especially financially, yet she still decided that she not rest on her current situation and look to those who were worse off than her despite her situation itself being pretty bad and worrisome by our standards. She saw the atrocities of poverty and disease in the streets of Calcutta and did not remain seated, instead she stood up to assist those as best she could who were struggling in a very difficult time throughout Indian history.
2. Always Treat Others how you Would Want to be Treated
Mother Teresa had found herself in a difficult point in her life. Despite this, she treated people and those in worse situations than herself with the utmost care and respect to the best of her ability, in the hope and in giving people the benefit of the doubt that if she were ever to find herself in a similar situation financially or health-wise, that those people would find themselves in the same situation as her where they would feel a sense of responsibility to assist her in her time of need. She was a woman who treated others how she would want to be treated, which is also a key message in the teachings of Christianity.
Conclusion
Mother Teresa was a woman who struggled immensely throughout her life financially and educationally in the field she wished to pursue. She would also go on to struggle with her faith in God, despite devoting her entire life's meaning to the supposed message that she had received from him. She was a woman who put others before herself in thousands of scenarios and passed judgement on people who had found themselves in judgmental situations as shown with leprosy, one of the most assumed diseases in the history of mankind, yet she took pity and sought to assist them in their hour of need. She was selfless and kind, as well as ever-looking to improve what she had built the foundations of with her hospitals, orphanages and leper houses, as well as her Missionary of Charity organization that she had set up to help those in desperate need of assistance and someone to turn to. She was an inspiration of not just the 20th century, but of human history, and that was signified by her recognition as a saint by the Catholic church in 2016.
Do not miss the chance to check out other inspirational and true stories available at SuninMe.org